HackFu is coming to Austria for the first time - and YOU can be there!
HackFu Austria will take place for the first time from September 15-17, 2021. In teams of 20 participants each, the best minds in the country (and in neighboring countries) solve tricky challenges relating to security in network and information systems. After successful events in England and South Africa, HackFu has arrived in Austria - just where the three-day convention gamified exactly takes place, we will not tell (yet). Just like in an emergency, our participants have to come to a meeting point from which they are transported directly to the "place of action". But don't worry, your physical well-being is of course taken care of (including a roof over your head). Participation, board and lodging, as well as transport from the meeting point in Vienna is free of charge. For more information on the events in England and South Africa, click here.
The 3-day gamified challenge in the style of a capture the flag scenario is aimed at a limited number of participants who work, research and teach in the field of network and information system security (experts), or in private companies, organizations and in public Service. We also cordially invite everyone who is in training or who has just completed their training (emerging talents). We offer a unique platform in Austria for the exchange between established professionals and new talent.
Do you want to prove that you can keep up with the best in Austria in the field of cyber security? Then simply register as an interested party using the form below - we will then send you all the information you need.
Do you still have questions? You can also reach us at any time at anmeldungen@hackfu.at.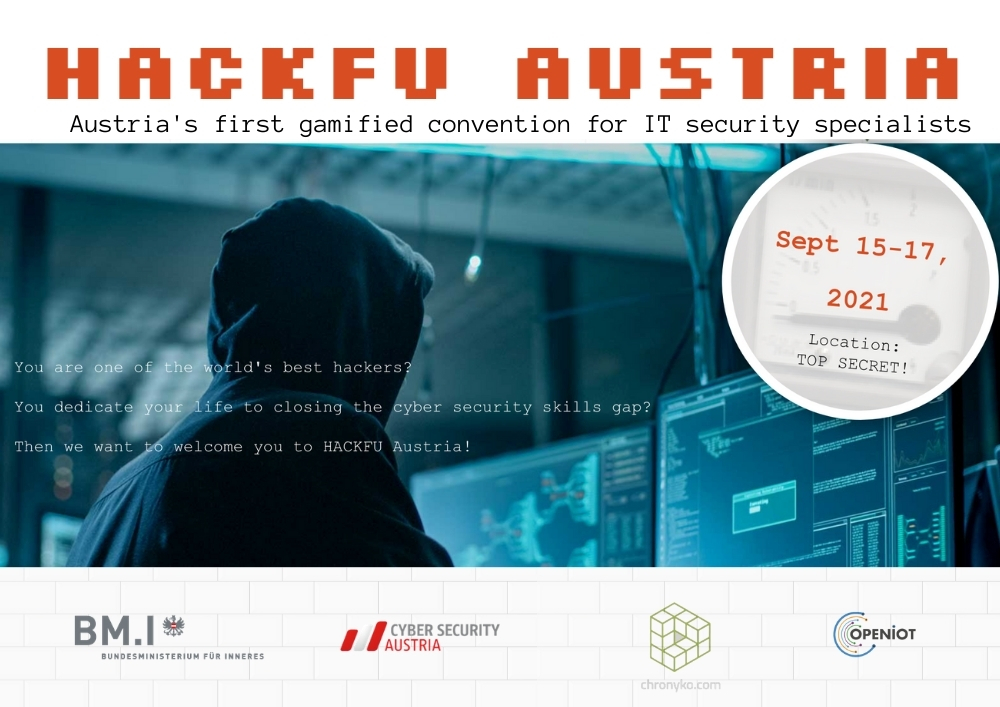 Here you can find all information about Austria's first gamified convention on cybersecurity at a glance.
Signup Closed
See you on another event!